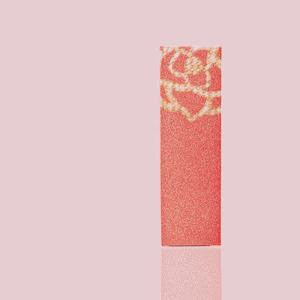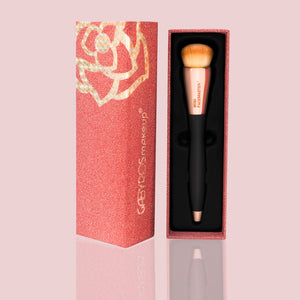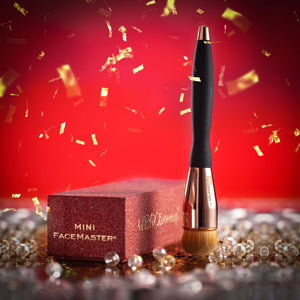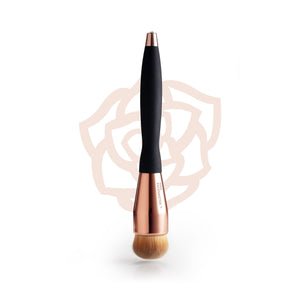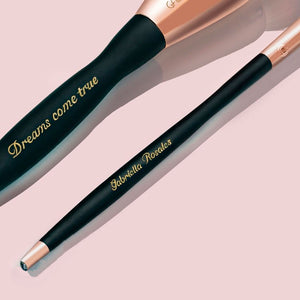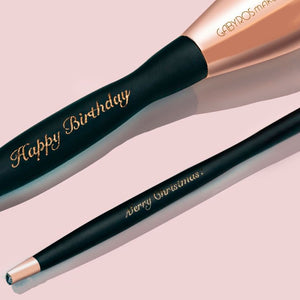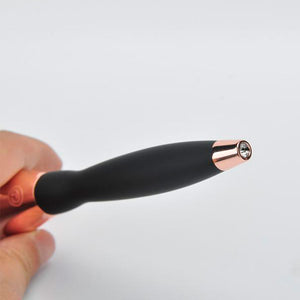 Mini Facemaster®
She's back! Our baby the Mini Facemaster®️ in original size with handle is a precise brush that you can use for foundation, concealers, powders and highlighters without cleaning in between. Is a magic wand with a packaging to die for.
Like our original size the Facemaster®️ this is a multipurpose makeup brush, completely handmade with more than 100.000 ultra soft animal free bristles, perfect for sensitive skin.
The exclusive design includes an ergonomic non-slip handle and a 7 layers cooper ferrules with a crystal encrusted bottom.
This tool is made with a durable and sturdy structure and everything comes in a high end luxury packaging with an authenticity card inside.
Welcome to the brush couture project, you will be amaze by the quality of this jewel brush.
Don't miss a spot use the mini......you will be obsessed.
Note: processing takes 2-3 days and flat rate shipping takes 5-8 days for domestic service and for international.
Your review will be highly appreciated, and you also can tag our social media for a chance to be featured on @gabyrosmakeupshop ht #jewelbrush #gabyrosmakeupshop #theFacemaster #gabyrosmakeup.
--------
Mini Facemaster®
Al fin de vuelta la mini Facemaster®️ una versión original con mango, es una brocha cómoda y precisa con la misma calidad de nuestra original y best seller the Facemaster ®️ puedes utilizarla para bases, correctores, polvos y hasta iluminador sin limpiar entre productos!
La mini Facemaster®️, parte de la "jewel collection" fue creada para áreas delicadas y precisión, mantiene la misma calidad, forma y diseño de la Facemaster ®️ pero con un tamaño más compacto que permite trabajar zonas difíciles y detalles.
Elaborada con más de 100.000 microfibras Extra suaves totalmente veganas que proveen un acabado aterciopelado en la piel.
Su diseño exclusivo incluye doble ferrule metálico con 7 capas de cobre auténtico reforzado y un cristal incrustado en la parte inferior.
Mango ergonómico antirresbalante y sólida configuración estructural para una prolongada vida útil.
Si amas la Facemaster con esta estarás obsesionada!! Es perfecta y viene en nuestro empaque más lujoso hasta ahora con un material diseñado enteramente para este proyecto.
Bienvenidos al mundo de la exclusividad en herramientas del maquillaje, te queremos sorprender!
Agradecemos infinitamente tu review aquí en esta página.

Comparte tus fotos y videos usando las etiquetas #jewelbrush #gabyrosmakeupshop #theFacemaster #miniFacemaster #gabyrosmakeup para poder ver tu trabajo.

NOTA: EL PEDIDO TARDA 2-3 DIAS EN SER PROCESADO Y 5 A 8 DIAS DE ENVIO DOMESTICO EN USA y 20 En INTERNACIONALES.
A little bit goes a long way with this brush, you just need 2 drops of foundation for a flawless finish. The little the better. You can also built up the finish as you like.
Necesitas muy poco producto al usar esta brocha, 2 gotas de base te servirán para lograr un hermoso acabado. Mientras menos cantidad mejor! Y siempre puedes construir el acabado a tu gusto.
SORPRESA! Ahora puedes personalizar tu joya! Con tu nombre, iniciales o mensaje especial! 🤩🤩🤩 para tenerlas identificado o para dar el regalo Perfecto e ideal.
Importante: No olvides colocar tu mensaje en el cuadro "Detalles del Grabado" con un máximo de 20 caracteres para poder colocarlo en el producto.
Comparte tus fotos y videos usando las etiquetas #jewelbrush #gabyrosmakeupshop #theFacemaster #gabyrosmakeup para poder ver tu trabajo.
   The Brushes are designed and cut entirely by me (GabyRosMakeup) and produce in limited quantities exclusively for my Brand by expert artisans in PRC where our technology for the bristles and handles is protected  directly by the factory. Each brush is completely made by hand one by one like jewelry pieces. And get checked 3 times for quality and finish with the higher production standards. I'm proud of my artisans and praise and value their work and dedication to my brushes. The same as I value you as a customer so if anything you are not satisfied please let me know and I'll fix it for you asap. Thanks in advance for your support