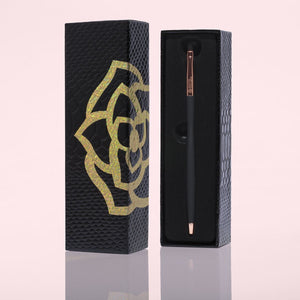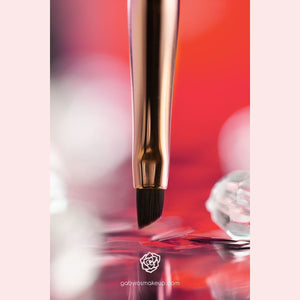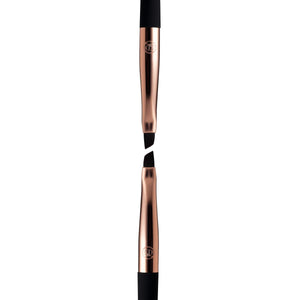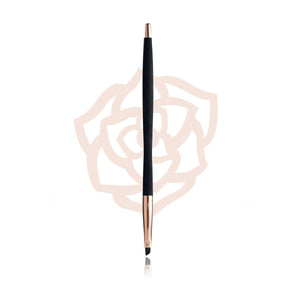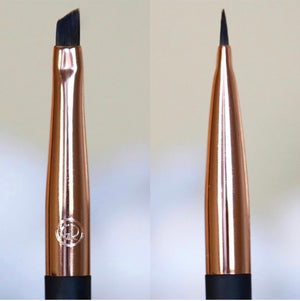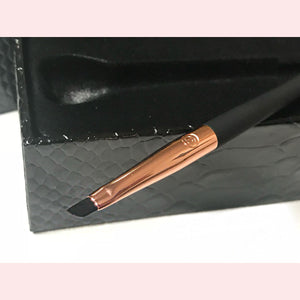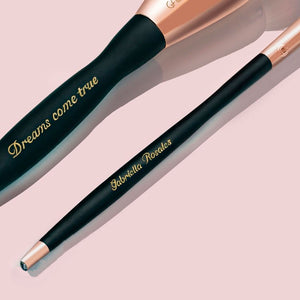 The Master Eyeliner Brush is an incredible thin and precise angle Brush designed with  an ergonomic handle, weight balance, double cooper ferrule and a crystal encrusted. 
This is the third addition to the  "jewel brush collection" and as the rest of the family comes in a luxury packaging with an authenticity card inside.
It can be used to create flawless brows stroke by stoke, define details in the eye look (cut crease, glitter crease) and of course to create the perfect Eyeliner or cat eye look. 
If you're a liner lover this brush is a must! Believe me.
Note: this is a vegan and cruelty free product.
-------
La tercera en la colección de brochas tipo joya "Jewel Collection" es una brocha angulada súper delgada y precisa como una cuchilla, perfecta para detalles mínimos en maquillajes, para maquillar cejas pelo a pelo con alta naturalidad y por supuesto para crear delineados perfectos e impecables. 
Como sus hermanas la Master Blending y la FaceMaster, está elaborada a mano con acabados de altísima calidad, balance de peso, mango ergonomico, ferrule doble de cobre y una incrustación de cristal que la hacen toda una joya. 
Viene en un empaque de lujo con su tarjeta de autenticidad dentro.
Si amas los delineados esta brocha la necesitas.
Nota: Esta brocha es vegana y totalmente libre de crueldad animal 
SORPRESA! Ahora puedes personalizar tu joya! Con tu nombre, iniciales o mensaje especial! 🤩🤩🤩 para tenerlas identificado o para dar el regalo Perfecto e ideal.
Importante: No olvides colocar tu mensaje en el cuadro "Detalles del Grabado" con un máximo de 20 caracteres para poder colocarlo en el producto.
Comparte tus fotos y videos usando las etiquetas #jewelbrush #gabyrosmakeupshop #thefacemaster #gabyrosmakeup para poder ver tu trabajo.
❗PLEASE READ OUR POLICY & SHIPPING INFO DOWN BELOW  //LEE NUESTRAS POLÍTICAS DE ENVÍO ABAJO EN ESTA PÁGINA 
   The Brushes are designed and cut entirely by me (GabyRosMakeup) and produce in limited quantities exclusively for my Brand by expert artisans in PRC where our technology for the bristles and handles is protected  directly by the factory. Each brush is completely made by hand one by one like jewelry pieces. And get checked 3 times for quality and finish with the higher production standards. I'm proud of my artisans and praise and value their work and dedication to my brushes. The same as I value you as a customer so if anything you are not satisfied please let me know and I'll fix it for you asap. Thanks in advance for your support